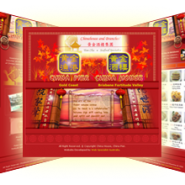 From Russell & Fiona Chan, General Managers of China House and Branches…
"What can we say, we are absolutely very happy with the overall service. You guys are very passionate with what you do and very patient in working with us. The creative team at Web Specialist know exactly how to convert ideas into design, we must say our website looks great!  Your ongoing support is also worth mentioning, so thank you very much for all the effort, well done!"
Website: www.chinapier.com.au www.chinahouserestaurant.com.au
Project Description:
Chinapier.com.au is a restaurant website with dynamic HTML menu to provide easy navigation for visitors. Chinapier.com.au also has a built-in online news feature where the restaurant management can update the news part of the website by themselves through a password secured back end. There is also a booking and contact form where customer can book online, and a simple restaurant job vacancy advertisement that can be updated by the restaurant from the admin back end.
Services we provided for China Pier Restaurant:
Website Design
Domain Name Registration
Website Hosting
We are proud to announce the launching of the new Chinese Restaurant Brisbane, the Chinahouse restaurant which is the sister website of the Gold Coast China Pier restaurant. China House restaurant is one of the best Chinese restaurant in Brisbane which is conveniently located in the heart of the Brisbane China town.
China House restaurant also provides its customers with one of the best Brisbane function venues. Be it wedding function, corporate function, company staff lunch, family gathering, birthday function, Christmas and New Year celebration, and so forth. This Brisbane Chinese restaurant serves one of the best Yum Cha in Brisbane, and a good range of Chinese food, Chinese wines, red wines and some live seafood. We have built a fully customised online booking which has been incorporated into their website so their customers can easily make booking online through their website.
Services we provided for China House Restaurant:
Website Design
Domain Name Registration
Website Hosting
Search Engine Optimisation