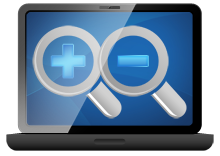 We know most business owners are flat out in running their day to day business operation, and therefore they usually don't have the time to focus on updating their website. In order to have an ongoing success, your website has to be updated regularly, particularly the contents and all the information relevant to the business product/services.
Your website should be able to provide your existing customers, suppliers, investors, and others prospects with fresh up to date and interesting information that will attract your customers and prospects to keep buying from you.
Therefore, website update or we call it website maintenance is a serious task and should not be under estimated. So if you feel you don't have the time, expertise and resources to maintain your website, why not let us handle it for you. And by the way, some of our clients have found that it is more economical than doing it themselves or even hiring an additional staff member to update their own site.
What We Can Do For You
Basically with website maintenance, after your site is up and running, we can make modifications to the content, make alterations to the structure, assess the traffic to improve the site's efficiency and many other tasks. We don't have any compulsory maintenance fees – unless of course you want them.
However, if you feel you have the time, resources and want absolute control of your website, Web Specialist Australia can design a CMS (Content Management System) where you can edit your content through your own password protected pages. This saves you money if you need to update sections of your website on a regular basis and ensures fresh content for your visitors. And this Content Management System feature is available in our Corporate Advanced Web Design package on the Packages & Pricing page.
From as low as $30 you can have your website maintained by us, and that includes tasks such as:
Minor redesign
Textual / content change
Pictures/logo reallocation
More images addition, image change and retouching
Files uploading to webserver
Consultation on redesign requirements
Site testing and auditing
Please contact us if you have any question about our website maintenance service.