Get your website listed on Google, BING and Yahoo search engine websites, on the first page of the search engine result pages and bring in new leads and customers, and generate more sales for your business.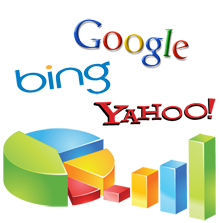 Search Engine Optimisation or usually pronounced SEO is a serious business if you want to get ahead of your competitors on the Internet. There are millions of websites on the net these days, there are just too many of them, and the chance is that, your competitors could have already got their websites on the Internet before you. And furthermore, since your competitors' website have been around on the Internet for a while, it is more likely that their websites can be easily found by their customers (and your customers as well) on Google, Yahoo and BING. In other words, you are behind your competitors.
Search Engine Optimisation is about getting your website to get and stay ahead of your competitors on search engines. The bottom line is that, Search Engine Optimisation ensure your website appears on the search engine result pages for any given target keywords, and more importantly your website stays there on the first page. Web Specialist Australia can assist with the following:
Website keywords research
Competitor website analysis
Search engine friendly website audit
Link building campaign
Content or copy writing
Website ranking monitoring and reporting based on targetted keywords
Google website analytics
The Web Specialist consulting team can help you evaluate your existing business, brainstorm and set realistic goals, outline an innovative and affordable strategy. Our ecommerce consultants can give you the tools and training to help you to create a successful online presence. Our Search Engine Optimisation is very affordable and our Internet marketing consultant can work with you to develop a web marketing strategy that works for your business.
Search Engine Optimisation Process
Initial Stage
Our first step is to meet with you to give you a view of the Internet from the perspective of an E-Commerce consultant. How does ecommerce work and why should your business be selling online? What are the choices? How much will it cost and will there be future expenses or savings? Will you design the site yourself or chose a design team? How do we incorporate graphics and who will maintain the site? We can help answer these questions for you.
Brainstorming and Setting Goals
Taking the time to explore what your business is about and how you work is critical to identifying realistic goals. We will work with you to set goals and create a plan that is right for you. Our meeting is intended to cover a wide range of topics where you will find ways to:

Create an Online E-Business Presence (website useability and accessibility, information security, including encryption, information management and metadata
Develop an Internet Marketing Strategy (website marketing, online surveys)
Improve Customer Service (community / portal development, electronic services delivery)
Increase Sales (targetted marketing)

Strategy and Development
It takes an interactive, engaging website to capture an audience, to engage them, entertain them, educate them and move them to buying an idea, a product or a service. We will help you develop a design and development plan and establish a realistic timeline to ensure your online E-Business solutions are properly implemented. We will work with you to help shape your online presence.
MarketingOur consultant will provide clients with Internet marketing training. We will work with you to develop an Internet marketing strategy. We will help you to Grow your E-Business at a rate that is comfortable for you.
Please contact us to discuss and develop your website marketing strategy plans today and maximise the ROI (Return on Investment) on your company website.